Planning for a wedding would be stressful, many things should be considered with proper planning. Having a fashionable wedding dress is not enough, you also need bridal accessories to have an overall look. When purchasing accessories, you should be careful in choosing the items that are relevant to you. No two weddings are completely alike and brides have their own choice of wedding accessories.
List of common accessories a bride must have are: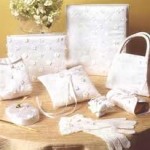 Bridal shoes: One of the important items that complement your wedding attire is bridal shoes. While buying wedding shoes, consider color, fabric and heel height. Ensure that your shoes match your dress color.
Bridal Purse and handbag: These are different from handbags used daily. They are useful to store your important belongings, if your wedding gown is custom made, you can design a purse from the gown's extra fabric.
Hair Accessories: Hair ornaments and head pieces improve your appearance and complicate your wedding hair style. You may also leave a bare hair by placing some clips or even a lovely hat.
Jewelry: When you wear a highly decorated gown, it is better to go for a simple jewelry and for simple gowns you can choose a sparkling jewelry to have a bright look. Some jewelry accessories include necklaces, earrings, bracelets, anklets, nose rings, finger rings pendants, bangles etc.
Wedding bouquet and gloves: Wedding bouquet refers to the flowers you carry on hand while entering the hall. The wedding gloves help keep your fingers warm during winter weddings and also look elegant for any outfit.
As you purchase your bridal accessories, you must keep your budget in mind. Without knowing the exact items to be purchased may lead to unnecessary expenses and shopping spree.