Generally, when visit people hotels, they create an image about the hotel, based on the luxury items present.
If you go for a high end hotels or resorts, these products are extended to provide extended feeling or luxury feeling for guests. Providing the quality and varieties of hotel toiletries, differentiates the normal economy hotel and luxury hotel. The hotels which provide luxuries amenities, should concentrate on providing luxury products in hotel rooms. It is common to provide towels, slippers, soaps in every hotel.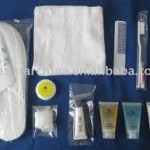 Hotel authorities can customize things like shampoos, conditioner, soap bars, towels, shower caps, dental kits, sewing kit, body lotion, linens, slippers, and more, by marking their brand on these things. Some things like luggage racks, bedspreads, pillows, furniture, paper coasters, pens, diary and other hotel supplies are customized by some hotels. Hotels can get positive impression from guests, by providing all the required things. Printing hotel name on them is the choice of hotel.
Bathroom is one of the places in the hotel rooms, where customers expect, all the necessary products to be available. There are many types of products like shampoos, conditioners, shaving kits, dental kits, bathrobe, bath towels, soap bars and more. Providing these basic but important things by the hotel management, will help them to gain the customer confidence, which ultimately results in customer satisfaction. By providing some of the luxury toilet amenities to guests, make them feel pampered and they enjoy to stay, irrespective of the hotel size.
Customers consider different factors like room cost, location, food, facilities and amenities to decide the best hotel to stay.