Various industries have been using barcodes for tracking inventory and other purposes. Barcodes are in the form of labels attached to various products. Barcode scanners read the data present on them. Among various types of barcode readers, hand held barcode scanners are one which ease business operations. Symbol scanners are commonly used handheld barcode scanners, that are used for general and industrial purposes.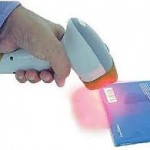 Retail business operations generally include handheld barcode scanners. The barcode on item is swiped of the scanner which gives the details of specific product. The details can be captured in very less time. This can avoid the laborious work of manually entering the data of each item on a calculator or a computer. The data captured by barcode scanners is stored in a database on a computer. Thus, management of business operations become simple by application of barcodes.
Handheld barcode scanners can also be used in buses and other means of public transport. Pre-printed bus tickets containing barcodes are read by these scanners. It avoids the manual checking and verification of tickets for the employees of transportation department. Travelers also feel it easy and convenient to use barcode labelled tickets.
Most of the handheld barcode scanners including Symbol scanners are wand type which use laser technology. These scanners can also be used for tracking students and employees which employ barcode identification cards. Finger prints of individuals can also be scanned by them which eases the job of police and the U.S. State Department. Handheld image scanners can scan a portion of document on business cards and receipts. In addition to these, there are many applications of handheld barcode scanners.